China court sentences four Uighur Muslims to death
Men convicted over violence in Kashgar and Hotan during the summer which resulted in 32 deaths, says Chinese government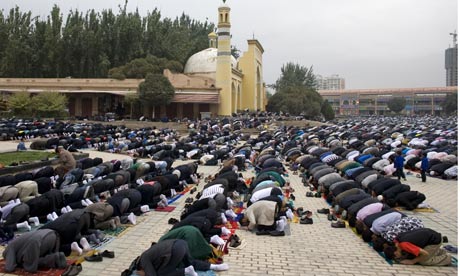 Four people have been sentenced to death by courts in

China

's western region of Xinjiang, over violence in two cities during the summer which left 32 people dead, a government website said.
The Chinese government blamed the incidents in Kashgar and Hotan – both in the majority Uighur southern part of Xinjiang – on religious extremists and separatists who want to establish an independent state called East Turkestan.
Many Uighurs, a Turkic-speaking Muslim people native to Xinjiang, resent Chinese rule and controls on their religion, culture and language.
The courts in the two cities found the four, who all had Uighur names, to be guilty of crimes including involvement in terrorism, arson and murder, the

Xinjiang government website

said.
"Both cases were heard in open courts in accordance with the law, with representatives from all walks of life attending," the report said. "During the trial, the accused … confessed everything."