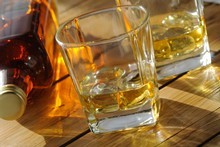 Non-alcoholic whisky is now whisky
at all, according to the Scots.
Non alcoholic whisky has the Scots reeling
The whisky distillers of Scotland are in revolt over an alcohol free creation.
ArKay is being promoted as delivering the "exceptional taste of whisky without the alcohol content" and ideal for teetotallers or those worried about drinking and driving.
Significantly, it has been declared as Halal certified, which opens up the possibility of huge sales around the globe in Muslim countries and the Middle East.
However, a spokesman for the Scotch Whisky Association said: "It is not possible to make alcohol-free whisky. This company is trying to exploit whisky's reputation with highly irresponsible marketing."
Real Scotch whisky is a simple creation of water and barley, which grows well in the cool climate and summer rains that are common north of the border. Each distillery's unique taste is delivered by the way the barley is dried, often in peat kilns, together with the way the whisky is carefully aged over many years, often in oak casks.