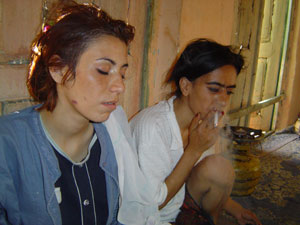 Islam and Sex Slaves: 84,000 girls in Iran
"In 2002, a BBC journalist was deported for taking photographs of prostitutes. Officials told her: 'We are deporting you … because you have taken pictures of prostitutes. This is not a true reflection of life in our Islamic Republic. We don't have prostitutes.' Yet, earlier the same year, officials of the Social Department of the Interior Ministry suggested legalizing prostitution as a way to manage it and control the spread of HIV. They proposed setting-up brothels, called "morality houses," and using the traditional religious custom of temporary marriage, in which a couple can marry for a short period of time, even an hour, to facilitate prostitution."
In her report, Islamic Fundamentalism and the Sex Slave Trade in Iran, Donna M. Hughes of the University of Rhode Island paints a dark picture where goverment officials and Islamic religious teachers alike sexually exploit young girls. Although she doesn't go into much detail, Hughes does acknowledge the fact that certain Islamic teachings (like 'temporary marriage' mentioned above) play a serious role in permitting and perpetuating the global sex slave trade.
"Women and girls have no guarantees of freedom and rights, and no expectation of respect or dignity from the Islamic fundamentalists," she writes. The statistics are shocking: in Tehran alone there are an estimated 84,000 women and girls in prostitution. Iranian girls are also trafficked abroad, providing sex slaves to Muslim men in Qatar, Kuwait, the United Arab Emirates and beyond. Hughes writes of one case, in which a 16-year-old girl was smuggled to Turkey to be sold to a 58-year-old European national for $20,000.
The worst part? The Islamic goverment of Iran is not interested in cracking down on those who enslave women. It's just business as usual to them.
"Given the totalitarian rule in Iran, most organized activities are known to the authorities. The exposure of sex slave networks in Iran has shown that many mullahs and officials are involved in the sexual exploitation and trade of women and girls. Women report that in order to have a judge approve a divorce they have to have sex with him. Women who are arrested for prostitution say they must have sex with the arresting officer. There are reports of police locating young women for sex for the wealthy and powerful mullahs."