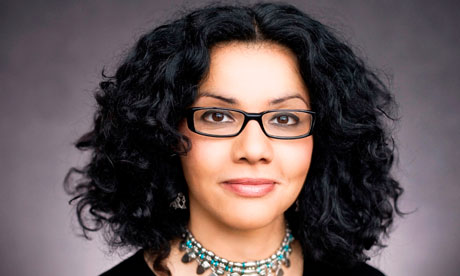 Journalist Mona Eltahawy alleges sexual assault in Egypt detention
The Guardian
The US-based Egyptian journalist Mona Eltahawy has been released, according to her personal Twitter account, after 12 hours in detention at the hands of Cairo security forces. A later tweet from the account @monaeltahawy said that she was sexually and physically assaulted while being held inside the interior ministry in Cairo, in the early hours of Thursday morning.
A US embassy representative in Cairo told the Guardian that the reports of her detention were "very concerning" and that "US embassy consulate officers are engaging Egyptian authorities".
She also thanked supporters after #freemona began trending around the world on Twitter.
In a series of tweets on Wednesday night, Eltahaway who is a columnist for various papers including the Toronto Star, the Jerusalem Report and Denmark's Politiken, and has also written for the Guardian, described scenes in and around Tahrir Square including news that a family friend of hers had been killed. She ended the message by damning the Supreme Council of the Armed Forces (Scaf) who have control overEgypt's transition.
Other journalists are also thought to have been detained on Wednesday night. Eltahawy last wrote for the Guardian on Friday about a young Egyptian female blogger who had decided to post a naked photo of herself on her blog in an act of defiance.
The 44-year-old was born in Port Said, but later lived in the UK, Saudi Arabia and Israel, settling in the US in 2000.
In 2009, the European Union awarded her its Samir Kassir prize for Freedom of the Press, and last year she was awarded the Anna Lindh Foundation's special prize for Outstanding Contribution to Journalism.
The Egyptian embassy in London has yet to comment on her detention.