Fury over why this vile cleric is still free to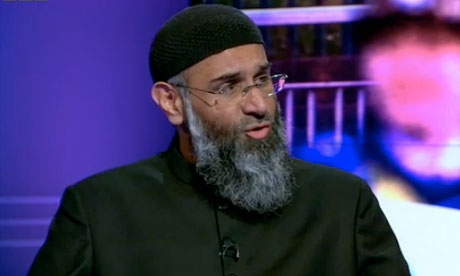 THE hate-spewing preacher who inspired the barbaric killers of soldier Lee Rigby was STILL free last night — sparking uproar.
Cops swooped to arrest Brits nationwide for simply TWEETING outrage at last week's horror but left vile Anjem Choudary to continue spouting his poison.
Last night leading politicians demanded he be caged — under the very same laws being used to clamp down on non-Muslims. ... Read More
Top Tory Sir Malcolm Rifkind, who chairs the Intelligence and Security Committee, led the calls after Choudary boasted to The Sun at least one of the cleaver-wielding brutes who practically beheaded the soldier was his disciple.
Cops have previously claimed they are powerless to arrest the gloating firebrand. But ex-Foreign Secretary Mr Rifkind insisted: "People who incite others to break the law or act in a violent way can be charged with a criminal offence."
He said it was high time Choudary was "dealt with" — especially since The Sun months ago exposed the fanatic's monstrous views. We even handed police our damning dossier.
Labour's David Blunkett — who as Home Secretary battled to introduce laws on incitement being flouted by the preacher — said: "The Government's hard-won powers should be used to the full. Anjem Choudary is now just playing with the police and security services."