Everybody is welcome - regardless of your political affiliation we want you to join us in London on Saturday 1st June.
We will be meeting in Woolwich at 13.00hrs at the junction between Woolwich New Road and Gunner Lane, opposite the Barracks.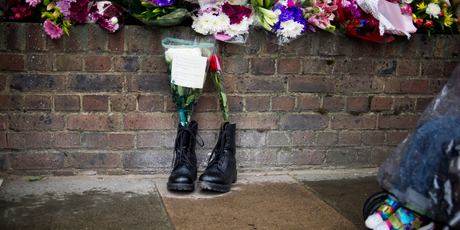 Police, politicians and activists in Britain are warning of rising anti-Muslim sentiment following the slaughter of an off-duty British soldier in a London street, an apparent act of Islamic extremism that has horrified the nation.
Metropolitan Police investigating the killing of Lee Rigby, a 25-year-old soldier who was run over by attackers then butchered by knives, arrested three more men in the murder investigation Saturday. Stun guns were used on two of the three men, aged 24 and 28, police said.
The latest arrests came as an estimated 1,500 members of an extremist right-wing group called the English defence League marched in the northern English city of Newcastle, chanting Rigby's name. In the southern English city of Portsmouth, police arrested two men for a racially motivated assault as hundreds of demonstrators gathered near one mosque, while several more people were detained for alleged racist offenses elsewhere.
The two men suspected of killing the soldier, Michael Adebolajo, 28, and Michael Adebowale, 22, remained under armed guard in separate London hospitals after police shot them at the scene.
Rigby's killing and Adebolajo's apparent link to Islamic extremism has stirred anti-Muslim backlashes across Britain. Police said they arrested three people on suspicion of posting racist tweets ahead of the English defence League march, and further detained 24 others before and during the protest on suspicion of public drunkenness, vandalism and distributing racist literature. One group of marchers carried a sign that read "Taleban Hunting Club."
About 350 counterdemonstrators who called themselves Newcastle Unites shouted abuse at the marchers, including "Nazi scum off our streets!" The region's Northumbria Police said riot police prevented any direct clashes between the opposed groups.
Meanwhile, the far-right British National Party announced it would rally supporters next weekend on the spot where the young soldier was killed.
"Has the horror of Woolwich woken you up too? ... Join the British resistance," British National Party leader Nick Griffin said in a video address Saturday to supporters announcing his plans for a "Stand Up to Muslim Terror" rally at the scene of the crime, where thousands already have left floral bouquets paying tribute to the soldier. more here