Interior Minister Friedrich wants to facilitate the expulsion of hate preachers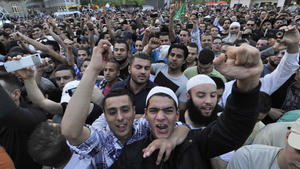 Followers cheering in the city of Frankfurt to the
Salafi preacher Pierre Vogel.
"
He who sows religious hatred will reap an expulsion"
You would do mischief, calling for violence and crime: Federal Interior Minister Friedrich hate preachers are an eyesore.
He will submit a bill to reform the Residence Act to facilitate the expulsion of Islamist hate preachers.
"He who sows religious hatred that constitutes an expulsion harvest",
the CSU politician said the new Osnabrück newspaper.
"We must make clear law that the use of force to enforce religious goals necessarily lead to an expulsion,"
said Friedrich.
"In addition, the expulsion law against extremists must be tightened." He had already called for tougher action last month. Democracy must be fortified. Friedrich is not the first, which requires tougher action. Hesse also wants to proceed with stricter laws and more prevention against Islamists, they can easily deport future. The black and yellow ruled the country wants to federal and state interior ministers in Hanover propose next week a tightening of laws.