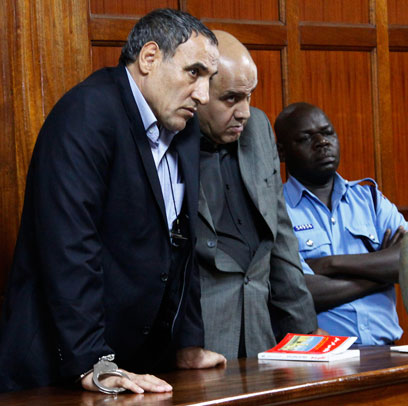 Ahmad Mohammad and Sayed Mousavi,
who were arrested in June while in possession
of 15-kilogram stash of explosives, sentenced to two life terms
for plotting to attack Western targets in Nairobi, Mombasa
"I shudder to imagine the amount of damage that could have been seen," ...
Judge Kiarie said.
The court said Mohammed and Mousavi were suspected to have links with a network planning bombings in the capital, Nairobi and the coastal city of Mombasa.
Judge Kiarie said he had decided to sentence them to life in prison because the "cry of victims of previous terrorist attacks is louder" than their pleas for leniency, AFP reported.
A magistrate in

Kenya

has sentenced two Iranian nationals convicted of plotting attacks against Western targets in the African country to life in prison.
Iranian nationals Ahmad Abolfathi were arrested in June 2012 and led officials to a 15-kilogram (33-pound) stash of the explosive RDX. At the time of the arrests, officials in Kenya said the two planned to attack Israeli targets, as well as American or

Saudi

targets. Read more here