Syrian tanks in Golan; Austria withdraws peacekeeping forces
Rebels, government forces clash in battle of Quneitra – small town near border crossing between Israel, Syria – injuring Filipino peacekeeper, prompting Austria to withdraw forces, Israel to lodge complaint with UN
In wake of ongoing battles in the Golan Heights, Austria has announced it is withdrawing its forces from the UNDOF peacekeeping force active in the region. During the battles aFilipino peacekeeper was wounded.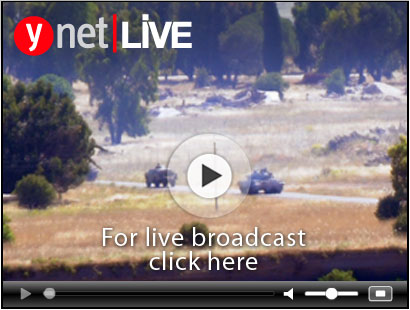 Watch: Fierce fighting in Quneitra area. Photo: Avihu Shapira
A day after losing control of Qusair, an important town close to the Lebanese border, rebels tried to grab back the initiative with an assault on Quneitra - the demilitarized zone on the Golan Heights patrolled by the United Nations' peacekeeping force and connecting Israel to Syria. YNET
soldiers in Golan Heights
UN Confirms 'Incidents' in Golan Heights
Head of UN peacekeeping force confirms that shots had been fired in "incidents" on the Israel-Syria ceasefire line in the Golan Heights.
The head

of United Nations peacekeeping confirmed Thursday that shots had been fired in "incidents" on the Israel-Syria ceasefire line in the Golan heights, where Israeli radio reported a crossing point falling into the hands of Syrian rebels. Later

reports

said Syrian government forces retook the site.
"We are following the situation in the Golan extremely closely, it is very sensitive," the head of UN peacekeeping operations Herve Ladsous told reporters in Paris, according to the AFP news agency.
"We have adjusted the stance of the UN force (in Golan) in real time, taking particular account of the security of our staff."
Ladsous added that "there were shots," but would not confirm the

report

that the Syrian rebels had taken control of the crossing point.
The UN has had a peacekeeping force, currently of 1,200 men, in the Golan since 1974 and Ladsous said its presence was not threatened by Thursday's incidents.
"It is in the interest of the international community that the UN force is able to

continue

it work in favour of regional stability."
"Austria and the Philippines, who are the biggest contributors, are, for the moment, keeping their contingents. We really need them," he added, according to AFP.
Austria has threatened to pull out its troops in the event of arms being supplied to the Syrian opposition.