UC Regents OK Muslim Student, Despite Anti-Israel Concerns
UC Berkeley senior Sadia Saifuddin is now the first practicing Muslim to hold the post.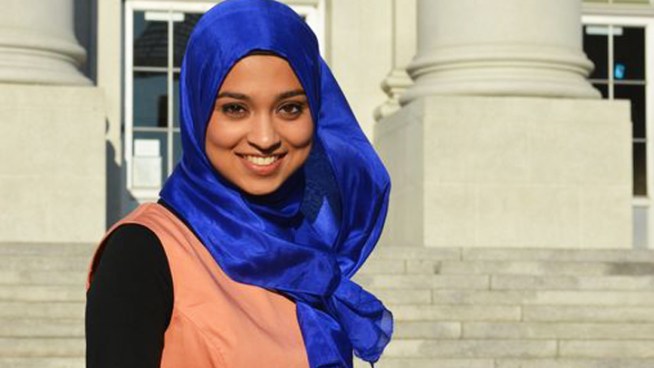 Sadia Saifuddin of UC Berkeley co-sponsored
an Israel divestment resolution,
accused companies of 'profiting from occupation'
The University of California Regents on Wednesday voted to appoint the first Muslim student to its board, despite vocal criticism from some Jewish groups who say her views on Israel verge on being anti-Semitic.
After the vote in San Francisco, however,

Sadia Saifuddin

, 21, of Stockton and a social welfare student at UC Berkeley, received a standing ovation from the crowd.
Saifuddin said after the meeting that she hopes people will look beyond some of her political activity to other things she has done.
Saifuddin co-sponsored an Israeli divestment resolution this spring that called for the divestment of $14 million in university and Associated Students funds from Caterpillar, Hewlett-Packard and Cement Roadstone Holdings, saying they profit from Israel's occupation of the West Bank and Jewish settlements. The resolution passed the student senate by a vote of 11-9.
"I don't want one cent of my money to go toward fueling the occupation of my brothers and sisters," Saifuddin told the campus newspaper following the April 17 vote.
"She is prominent in the anti-Israel boycott campaign, an extremist movement that demonized the Jewish state, rejects dialogue, and fosters bigotry,"

Roberta Seid, a research-education director at StandWithUs, an organization promoting education of Israel, told regents before the vote.
Seid, one of two people who spoke against Saifuddin, said Saifuddin's actions had marginalized many students. Saifuddin, 21, said after the vote that she expected opposition and hoped that people would look beyond her political activity to other things she has done.
She said the divestment bill was a big issue with the constituency she represented at UC Berkeley.
"My capacity was to represent that specific community and the views of that community," she said. "My capacity as student regent is very different."
The Israeli-Palestinian conflict has been an occasional flashpoint for students and faculty at the University of California. Pro-Palestinian protests have become a regular occurrence on many UC campuses, with students sometimes using sensational tactics, including simulating checkpoints and combining swastikas with the Star of David.
In 2010, 10 Muslim students were convicted of misdemeanors for repeatedly interrupting a speech by Israeli Ambassador Michael Oren at UC Irvine, where students were suspected of painting swastikas in university buildings.