The incitement has been reported by watchdog group Palestinian Media Watch.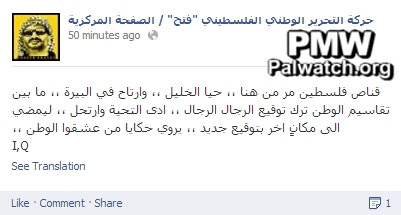 "The sniper of Palestine was here. He saluted Hebron,
and rested in El-Bireh. He left the signature of [real] men
in different parts of the homeland. He saluted and left,
and moved on to a different place, with a new signature,
as he tells the stories of those who love the homeland."
Fatah is the organization whose chairman, Mahmoud Abbas, is also Chairman of the Palestinian Authority (PA), the body that rules over parts of Judea and Samaria since the early 1990s and with which Israel is conducting "peace talks."
The administrator of the Facebook page makes a connection between the shooting Saturday, which occurred at Psagot, near El Bireh, and the killing of an IDF soldier by a sharpshooter in Hevron two weeks ago.
"The sharpshooter of Palestine has passed here," the administrator writes. "He greeted Hevron and rested at El Bireh. Between these two parts of the homeland, he left a manly signature. He saluted and went on his way, and went on to a new place with a new signature, as he tells the tale of those who love the homeland."